Remodeling a home can be stressful, especially when it comes to the clean-up and safety of your home and family. And wouldn't you like to have a full guarantee that there will be no dust or air pollution, after all is said and done? We've all been there, dealing with the clean-up process whether you're a construction worker or the homeowner. Imagine it, you just finished remodeling your home, you're not sneezing every twenty seconds, you don't find random patches of dust laying on your window sills and the air you're breathing is fresh. Or imagine being a worker, going home and not having chest pains or trouble breathing, all because of a small dust control system called BuildClean.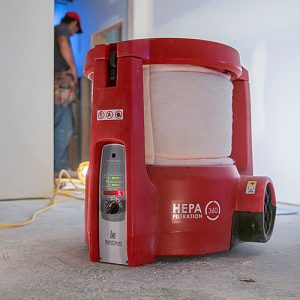 Build Clean is an efficient and professional dust cleaning management system that was specifically invented for the dust created during reconstruction and remodeling process. Unlike other fans and dust collectors, BuildClean minimizes the spread to other rooms, in the house, with it's two-stage filtration process collecting both coarse and fine matter, leaving no irritants behind. Some of the other features included in BuildClean are: dynamic fan speed, auto mode setting and a LED light replacement filter reminder. Along with these amenities, BuildClean has a 360° Design maximizing the amount of leftover particles picked-up.
   To ensure the work being done doesn't cause major damages, it's essential to acknowledge the possible health issues that may arise and how to prevent these from occurring or getting worse. Through the use of BuildClean Dust System, dividing the rooms up via plastic tarps, the correct masks and work gear allows a cleaner space for remodeling agents to work in. Not only is it less of a hazard for the workers, but it's safer for the homeowner, as well. An astounding 85% of homeowners say, the job site dust is the most serious and inconvenience of remodeling. However, they won't have to accept this standard any longer with the BuildClean Dust System. 
The three main positive points to take away from BuildClean are:
Drastically reduces the amount of dust created from the job.

Increases the homeowner's overall experience, when remodeling home.

Provides a safe and healthier work environment for construction workers.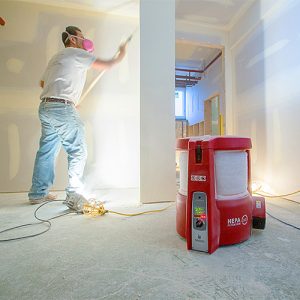 Penn Construction and Design has high standards for the job requests and uses BuildClean throughout all demolition projects. We believe in keeping our clients happy, keeping our workers safe and ensuring a clean environment for all.
   Dan Greenspun, President of Penn Construction and Design states, "It's important to let our clients know we care about their well-being, along with the well-being of our workers. And BuildClean helps us maintain that."