Have you thought about remodeling your basement to add more space into your home? A finished basement is a great investment, increasing the value of your home, and giving you the extra space you need.
There are endless possibilities and ways you can transform your basement into the finished basement of your dreams. Whether you are looking to add additional living space, a home office, or a play room for your kids, you can design your space to fit your needs.
Here are some things to consider incorporating into your basement remodel.
An additional living room. This is a great way to give you and your family the extra space needed to watch movies and hang out. This comes in handy when you host people at your house, plan birthday parties, and even just need some time to binge watch your favorite show.
Make room for a home gym. This is something we could all use due to the COVID-19 restrictions. Add your favorite treadmill, or splurge on the Peloton you've been wanting all year, as staple pieces in your gym.
Adding a wet bar.  Do you find yourself often hosting friends and family at your home? Whether you plan to hold a poker night, watch your favorite sports team, or need some extra space for hosting an event, a wet bar is the way to go. Include built-in counter space up in your design to add more storage room without sacrificing too much square footage.
Let your kids have more room to play. If you have kids you know how overwhelming it can be trying to keep your home mess free from all of their toys. Adding a play area for your kids in the basement is a great way to keep them occupied while keeping your home organized.
These are just a few things to consider incorporating into a finished basement. A finished basement might just be the perfect way to get the extra space you need in your home.
Check out this completed basement remodel.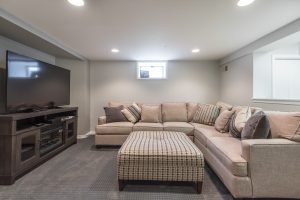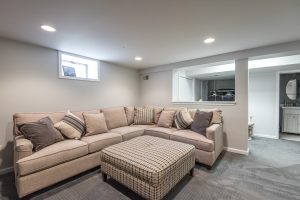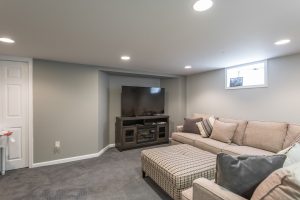 At Penn Construction & Design, we combine licensed realtor knowledge with custom design and top craftsmanship to deliver exceptional client satisfaction. To learn more about our top rated design-build model, and discuss how you can add value to your home, contact Penn Construction & Design for a consultation at (484) 452-5071.